In Stock
Free Shipping Options Available
Price Match On Most Items
Manufacturer Direct
Exceptional Customer Service
Free Replacement Shipping
To place an order over the phone or for immediate assistance, please call (888) 978-4993. For after hours sales please call (888) 999-1522.
| | |
| --- | --- |
| | Brand new in box |
| | Manufacturer direct shipping |
| | 1 year limited manufacturer's warranty |
| | Authorized Aims Power dealer |
| | Free shipping |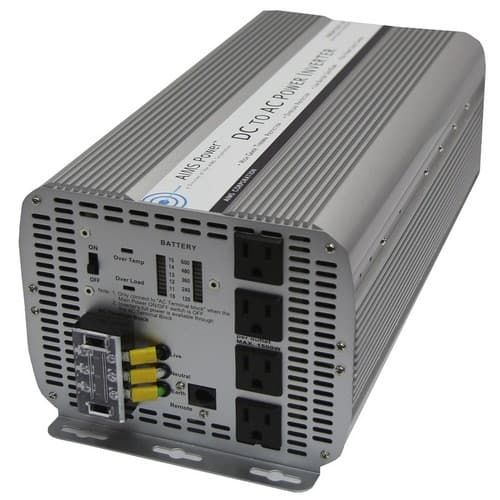 Aims Power PWRINV500012W 5000 Watt Power Inverter
Modified Sine Wave Power Inverters represent the most economical solution for powering a large number of appliances. The waveform produced by a Modified Sine Wave Power Inverter is blocky resembling a set of steps whereas the waveform produced by utility companies is smooth much like a curvy road. Therefore because of the type of waveform, the Modified Sine Wave Power Inverters produce they are suitable for most applications. Modified Sine Wave Power Inverters are more efficient in converting battery power to AC. So if you're looking to make a pot of coffee run a heater or air conditioner or appliances that can withstand occasional electrical noise a Modified Sine Wave Inverter is a cost-effective solution. To select the right inverter first determine what devices you would need to run in the event of a power outage. Then select the appropriate inverter that can carry the combined wattage requirements of these devices. Some appliances have a startup amperage. At AIMS you'll discover our inverters range from 75 watts up to 12000 watts more than enough to power nearly every application imaginable. 
Features: 
5000W max continuous power
Modified sine wave
Voltmeter on the front panel to monitor your battery voltage
Amp meter on the front panel to monitor your current use (the rate at which battery is drained)
AC Direct Connect Terminal!
Over Temperature LED indicator
Over Load LED indicator
Quadruple ac receptacle that can be used with any separate more split to provide even more outlets
On/off switch
Over Temperature protection
Over Load protection
Single cooling fan operation thermally controlled
Internally fuse protected
ac output short circuit protection
Auto reset on most fault conditions
Aluminum case for optimal cooling
Pre-wired for remote on/off switch
Pre-slotted mounting plate
Instruction manual
Free 1 year tech support
1 Year Warranty Parts and Labor
Specifications:
Continuous output power: 5000 Watts
Surge power capability (peak power): 10000 Watts
dc input / operating voltage: 10 to 15 Volts
Output voltage: 120 Volts ac +/- 10%
Output waveform: modified sine wave with phase correction
Output frequency: 60 Hz +/- 1 Hz
Battery low voltage alarm: 10.5 +/- 0.5 Volts
Battery low voltage shutdown: 10.0 +/- 0.5 Volts
No load current: < 0.6 Amps
Full load efficiency: 90%
1/3 load efficiency: 95%
No load minimum operating temperature: -15 degrees Celsius
Full load maximum operating temperature: 55 +/- 5 degrees Celsius (automatic shutdown)
AC Output Socket Type: quadruple Type 2 -3 prong
High input voltage protection: 15V-17V
Low input voltage shutdown: 10V
Internal fuse protection
Product size (L x W x H): 17X 7.75X 6
Weight: unit 18 lbs boxed 20 lbs
UL maximum recommended per outlet 1500W
As an Aims Power authorized dealer, we offer a 1-year limited factory warranty on this item.
Aims Power inverters have a one to two year warranty. If it is a ETL listed inverter it has a two year, all other models have a one year.
Aims 5000 watt inverter
I've had it one month so far no problems works very well
---
Aims 5000 watt inverter
I've had it one month so far no problems works very well