Out Of Stock
Manufacturer Direct Shipping
Free Shipping Options Available
Price Match On Most Items
Manufacturer Direct
Exceptional Customer Service
Free Replacement Shipping
To place an order over the phone or for immediate assistance, please call (888) 978-4993. For after hours sales please call (888) 999-1522.
The Austin Air Allergy Machine is made for people suffering from severe allergies or asthma. It removes almost 100% of allergens such as mold, pollen, dust, and pet dander. The Allergy Machine uses High Efficiency Gas Absorption (HEGA), technology only available to hospitals and the military. It is also great for removing smoke, odors, fumes, and other chemicals which can trigger allergy and asthma symptoms. It uses a True Medical HEPA filter and military grade carbon cloth to rid you of unwanted particles.
The True HEPA ensures that there is a tight seal, allowing only filtered air to be released back into your home. The Allergy Machine uses a 360-degree intake technology from Austin Air. This process involves absorbing air from every direction and passing it through a 4 stage filter, where even particles as small as 0.1 microns are absorbed. This air purifier is made of solid steel and is finished with a non-toxic powder coat. It is built to operate and last for a very long time, with reduced electricity use and cost.
The Allergy Machine works for rooms as large as 1,500 square feet, and it comes with a 5 year filtration and mechanical warranty and a 30 day money back guarantee.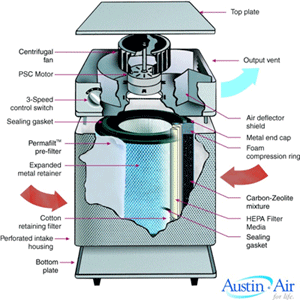 Allergy Machine 4 stage filter system
Stage 1: Air passes through a pre-filter where large and visible particles such as hair and pet dander are removed
Stage 2: After passing through the pre-filter, air passes through a medium particle filter where particles such as pollen and spores are removed
Stage 3: - True Medical HEPA filter removes 99.97% of particles with size greater than 0.3 microns
Stage 4: Military grade Carbon cloth removes 95% of particles with size greater than 0.1 microns which include chemicals and other gases
As an Austin Air authorized dealer, this item comes with a 5 Year Warranty. 30-Day, No-Questions-Asked, Money-Back Guarantee In the unlikely event that you're not completely satisfied with your Austin Air cleaner, return it within 30-days, no-questions-asked. 5-Year Mechanical Warranty Your Austin Air cleaner is warranted to be free from defects in material and workmanship for a period of 5-years from the date of purchase; provided your Austin air cleaner was operated under normal residential use and that you have completed and returned your warranty registration to Austin Air Systems. 5-Year Pro-rated Filter Warranty Austin Air offers a 5-year pro-rated filter warranty, by far the most comprehensive in the industry. No more costly filter replacements every few months or even years. Austin Air filters are designed to last for an amazing 5-years.
Perfect For Rooms Up To: 1500 sq. ft.
Pay over time
Clear, transparent terms. Fair rates. No prepayment penalties.
GET MY RATE
Financing Available
We provide easy and affordable financing through our partner, Bread, so you can pay for your purchase over time.
Affordable Monthly Plans
Pay for your order over 12, 18, or 24 months at competitive interest rates*.
No Prepayment Penalties
Pay for your purchase with monthly payments and prepay at any time without penalty.
Quick and Easy Application
Get a decision in seconds with no obligation to buy.
Check your rate in seconds without leaving our site
GET MY RATE