AAXA P300 HD LED DLP Mini Portable Pico Projector with 500 LED Lumens HDMI Mini-VGA New
| | |
| --- | --- |
| |  Ships directly from AAXA in CA |
| |  1 year factory warranty |
| |  All original accessories included |
| |  Authorized AAXA dealer |
| |  Free shipping |
---
AAXA Technologies is excited to announce the release of our P300 Pico projector – the world's brightest battery-powered HD pocket projector. The new P300 features a revolutionary new compact optical engine capable of delivering 500 peak lumens at a high-definition (HD) resolution of 1280x800. Powered by Texas Instruments' DLP Technology the AAXA P300 employs Vibrant Color LED technology that delivers dazzling color quality with an operating life of more than 20,000 hours and is capable of generating a viewing experience of up to 120"*

 
What's in the box:
AAXA Pico Projector

Tripod

Composite AV Cable

Wall Charger

Remote Control

VGA adapter cable

Manual
Features:
Best pico projector of 2015 - Engadget/The Wirecutter

Next generation 500 Lumen optical engine
Native 1280x800 HD Resolution
Vibrant Color Technology w/ 20,000 Hour LEDs
HDMI, VGA, MicroSD, USB and AV inputs
Powerful ARM Processor for Video, Pics
MP3, AVI, JPG, and text file support
Up to 120" image (in low-light conditions)
Includes 60+ Minute Internal Li-Ion Battery

 





The P300 offers a high resolution HDMI connection for direct connection to your HDMI sources for audio and video up to 1080p. 

The P300 is a true "pocket projector" at less than 5.9" long, 3.9" wide, and 1.6" tall, it is both compact and energy efficient - consuming less than 25W when plugged in. Additional features include adjustable tripod, 1280x800 VGA input support, 1280x800 HDMI support, Micro SD Card slot, USB port, composite video input, and 3.5mm headphone jack. 
High Definition WXGA Resolution
---
The P300 features highest-in-class resolution at WXGA (1280x800), otherwise known as "High Definition" and is the base resolution for blu-ray DVDs. Unlike competitors that claim high resolution through digital scaling, the P300's native resolution is 1280x800 pixels and is capable of scaling resolutions up to 1080P.The projector works as a standalone device - no need to connect to a computer, phone or wall outlet to create a magic movie theater anywhere.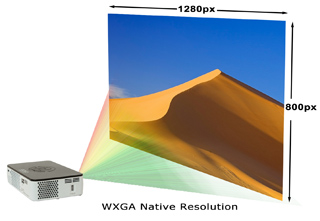 Super Color and Image Quality
---
The Vibrant Color Technology and triple LED light source in the P300 produces a vivid display with amazing color saturation. 

Long Operation Life
---
| | | | | | |
| --- | --- | --- | --- | --- | --- |
| | | Conventional lamp-based projectors require frequent bulb changes with very expensive bulbs that cost hundred of dollars. | | | The P300's LED light source lasts 10 times longer than conventional lamps so bulb changes are a thing of the past! |
| | |
| --- | --- |
| | The P300's lithium ion battery gives you upwards of 60+ minutes of operation! Rechargeable and long lasting the internal lithium ion battery makes the P300 a truly portable device. |
Brightest in Class
---
The AAXA P300 produces the brightest image in it's class - in both DC and battery powered modes 
| | | | | | |
| --- | --- | --- | --- | --- | --- |
| | | The AAXA P300 outputs up to 500 Lumens which outclasses the competition in the pico projector market. | | | The P300 is twice as bright as its other competitors in battery power mode. |
Real Quick ON & OFF
---
| | | | | | |
| --- | --- | --- | --- | --- | --- |
| | | Long warm-up and cool down times, sometimes for several minutes, are required for projectors using traditional lamps. | | | The LED light source enables the P300 to achieve full brightness within seconds. Of course, it turns off instantly as well. |
Versatile Multimedia Support
---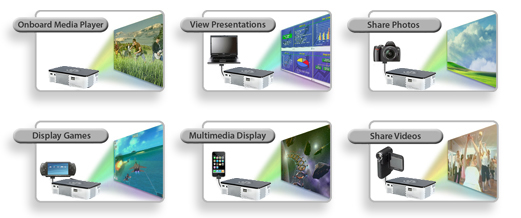 Onboard media player supports popular file formats
Share movies, videos, photos with friends and family
Bring presentations anywhere and everywhere
Enjoy gaming and entertainment without large TV's
Environmentally Friendly
---
| | | |
| --- | --- | --- |
| | | The P300's LED light source consumes less power. The LED is also 100% free of mercury and, as the bulb never needs to be replaced, there are no discarded bulbs. |
---
**120" image possible in low light conditions
PROJECTION SYSTEM
---

 Max Resolution:

1920x1080 (1080P)

---

 Native Resolution:

1280x800 (WXGA)

---

 Max Brightness (DC):

500 Lumens

---

 Max Brightness (Battery):

200 Lumens

---

 Contrast Ratio:

2000:1

---

 Projection Lens:

Manual Focus

---

 Projection Image:

Available Size 10 ~ 120 inch

---

 Lamp:

Triple RGB LEDs with Vibrant Color Technology

 


Life 20,000hrs

---

 Projection Angle:

39.3° x 24°

---
GENERAL SPECIFICATIONS
---

 Audio Output

1W (x2) Stereo Speakers
Stereo speaker/headphone mini-jack

---

 Color:

White/Black

---

 File Playback:

microSD & USB Host reader

---

 Menu Language:

English, Spanish, French, German, Chinese

---

 Aspect Ratio Control:

16:10

---

 Battery Life:

Pre-installed 60+ minute Li-Ion battery

---

 Dimensions:

5.9" x 3.8" x 1.5"

---

 Weight:

0.97 lbs

---

 Power Consumption:

25w

---

 Supported Formats

MP3 / WMA / OGG / WAV / AVI
BMP / JPG / GIF / TXT

---

 Conformances:

CE, FCC Class A

---
INPUTS / OUTPUTS
---

 Video In:

HDMI

 


VGA (mini-VGA)
Composite A/V (3.5mm Jack)

---

 Audio Out:

3.5mm Stereo Headphone Jack

---

 USB:

5 Pin Mini USB 2.0

---
THROW RATIO (1.38)
---

 Screen Diagonal (inches)
 Screen Distance (inches)

---

 17

20

---

 25

30

---

 34

40

---

 42

50

---

 51

60

---

 59

70

---

 68

80

---

 76

90

---
---

Model:

KP-600-01

---

UPC:

861495000186

---
INCLUDED ACCESSORIES
---
Tripod
Composite AV Cable
Wall Charger
Remote Control
VGA adapter cable