Select Bread as your payment option at checkout
In Stock
Free Shipping Options Available
Price Match On Most Items
Manufacturer Direct
Exceptional Customer Service
Free Replacement Shipping
To place an order over the phone or for immediate assistance, please call (888) 978-4993. For after hours sales please call (888) 999-1522.
| | |
| --- | --- |
| | Brand new in box |
| | Manufacturer direct shipping |
| | 1 year limited manufacturer's warranty |
| | Authorized Aims Power dealer |
| | Free shipping |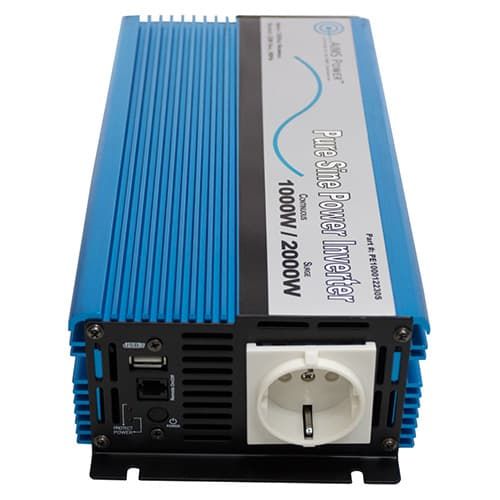 Aims Power PE100012230S 1000 Watt Pure Sine Inverter
Power inverters have become a staple in businesses and homes around the world due to intermittent brown and black-outs. AIMS Pure Sine Wave Power Inverters provide reliable transformation of DC power from a battery (such as the one in a car or RV) into AC power that can then be used to run lights computers printers televisions medical equipment* and a broad range of appliances. And when it comes to selecting an inverter it's helpful to know that AIMS Pure Sine Wave inverters represent the most technologically advanced lightweight compact and diverse inverters on the market to help ensure the widest use of applications. For over a decade AIMS Power has consistently delivered the broadest range of sizes to accommodate virtually every power requirement. Advantages of a pure sine inverter:
Equipment runs more efficiently
Motors run cooler
Cleaner power
Ideal for power tool chargers laser printers electric shavers microwaves variable speed motors TV's medical equipment To select the right inverter, first determine what devices you would need to run in the event of a power outage. Then, select the appropriate inverter that can power the combined wattage requirements of these devices. Please see our tech support section for startup averages for all devices. At AIMS you'll discover our inverters range from 75 watts up to 12,000 watts – more than enough to power nearly every application imaginable.
Features:
1000W continuous power
Pure sine wave
USB Port
Type C,E & F receptacles
On/off switch
Over temperature indicator
Overload protection
Low battery voltage warning/shutdown
High input voltage protection with automatic shutdown
Over load indicator
Short circuit protection
Thermally controlled cooling fan
AC output short circuit protection
Instruction manual
Free 1 year tech support
1 Year Warranty Parts and Labor
Battery cables not included - 6AWG cables are recommended
Specifications:
Continuous output power: 1000 Watts
Surge power capability (peak power): 2000 Watts
DC input / operating voltage: 10 to 15 Volts
Output voltage: 220/230 Volts AC +/- 10%
Output wave form: pure sine wave
Output frequency: 50 Hz
Battery low voltage alarm: 10.6 +/- 0.5 Volts
Battery low voltage shutdown: 10.0 +/- 0.5 Volts
Low battery voltage warning/shutdown
No load power consumption: <1.4 dc amps
DC amps - 83 · AC amps - 8
Full load efficiency: 90%
1/3 load efficiency: 95%
No load minimum operating temperature: 32 degrees F
Full load maximum operating temperature: 104 degrees F
AC Output Socket Type: Type C,E & F 16 amp
USB Output: 5Vdc, max 1A
High input voltage protection: 15V
Low input voltage shutdown: 10V
Internal blade fuse protection
Unit Weight: 5.3 lbs.
Unit Size L x W x H: 11.53 x 5.51 x 2.91 inches
Shipping Weight: 7 lbs.
Shipping L x W x H: 18 x 12 x 6 inches
As an Aims Power authorized dealer, we offer a 1 year limited factory warranty on this item.
Aims Power inverters have a one to two year warranty. If it is a ETL listed inverter it has a two year, all other models have a one year.
Pay over time
Clear, transparent terms. Fair rates. No prepayment penalties.
GET MY RATE
Financing Available
We provide easy and affordable financing through our partner, Bread, so you can pay for your purchase over time.
Affordable Monthly Plans
Pay for your order over 12, 18, or 24 months at competitive interest rates*.
No Prepayment Penalties
Pay for your purchase with monthly payments and prepay at any time without penalty.
Quick and Easy Application
Get a decision in seconds with no obligation to buy.
Check your rate in seconds without leaving our site
GET MY RATE
---