Free Shipping. No Sales Tax *Except TX*
No Hassle Returns
Price Match On Most Items
Manufacturer Direct
Exceptional Customer Service
Free Replacement Shipping
To place an order over the phone or for immediate assistance, please call (888) 978-4993. For after hours sales please call (888) 999-1522.
Austin Air Baby's Breath Air Purifier is designed with your child in mind. It keeps your child's room free of dust, pet dander, VOCs, and other harmful particles, thereby minimizing possible health issues. Babies have very sensitive lungs, making them more prone to respiratory diseases. The air they breathe greatly affects the rest of their life. Inhaling harmful pollutants can lead to a higher risk of asthma and other diseases. Cleaner air will also allow the baby to have a more sound and longer sleep. This purifier uses a 360-degree intake system developed by Austin Air, drawing in 125 cu. ft. of air every minute and passing it through a 4-stage filter. The Baby's Breath purifier is efficient and operates using only a small amount of electricity. It occupies a small space being only 16¢'¬? high, but cleans air in a room up to 750 sq. ft in size. The Baby's breath is safe, efficient, quiet, and sturdy. As with all Austin Air machines, it was built using a solid steel housing and uses a PSC motor for efficient energy consumption. The Baby's Breath gives you an extensive air cleaning solution, ridding your home of chemicals, allergens, harmful gases, and other submicron particles through its HEPA filter and activated Carbon cloth. It comes with a 5 year warranty for parts, labor, and filtration, as well as a 30 day money back guarantee if you are not satisfied.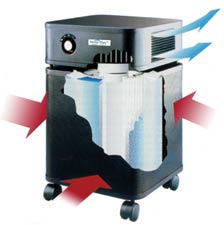 Baby's Breath 4-stage filter system
Stage 1: The large particle pre-filter in Baby's Breath removes particles visible to our eyes, such as pet dander and hair.
Stage 2: The medium particle pre-filter then removes intermediate sized particles not easily seen, like pollens.
Stage 3: The medical grade HEPA filter removes microorganisms and submicron particles, like bacteria and viruses.
Stage 4: The activated Carbon cloth then removes harmful chemicals and gases, such as ammonia.
As an Austin Air authorized dealer, this item comes with a 5 Year Warranty. 30-Day, No-Questions-Asked, Money-Back Guarantee In the unlikely event that you're not completely satisfied with your Austin Air cleaner, return it within 30-days, no-questions-asked. 5-Year Mechanical Warranty Your Austin Air cleaner is warranted to be free from defects in material and workmanship for a period of 5-years from the date of purchase; provided your Austin air cleaner was operated under normal residential use and that you have completed and returned your warranty registration to Austin Air Systems. 5-Year Pro-rated Filter Warranty Austin Air offers a 5-year pro-rated filter warranty, by far the most comprehensive in the industry. No more costly filter replacements every few months or even years. Austin Air filters are designed to last for an amazing 5-years.
Perfect For Rooms Up To: 750 sq. ft.
---
More from this collection