CAT RP12000E-EPA 502-3699 12000W/15000W Electric Start Portable Gas Generator New
Model:

CAT

SKU:

RP12000E-EPA
Out Of Stock
Free Shipping Options Available
Price Match On Most Items
Manufacturer Direct
Exceptional Customer Service
Free Replacement Shipping
To place an order over the phone or for immediate assistance, please call (888) 978-4993. For after hours sales please call (888) 999-1522.
| | |
| --- | --- |
| | Brand new & manufacturer direct |
| | 3 year manufacturer's warranty |
| | Authorized CAT dealer |
| | Ships out same or next business day |
OVERVIEW
A POWERFUL WORKHORSE
The best choice when the job calls for power.
The Cat RP12000 E delivers 12kW of long-lasting power for heavy duty applications in a balanced, fuss-free design. The RP12000 E is perfect for the small contractor or homeowner with big power needs who also wants premium features and the flexibility of a portable generator. Built with a 670cc V-Twin OHV motor, Low Harmonic Distortion all copper generator and premium control panel, this generator delivers durable, quality power for things like:
Table Saws
Hammer Drills
Air Compressors
Furnaces and smaller AC units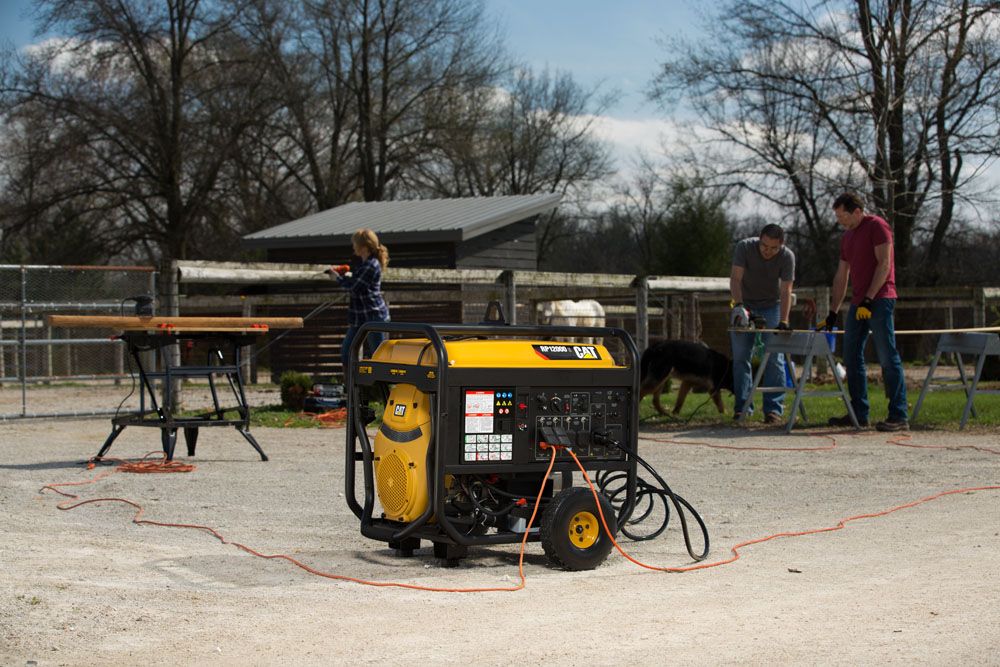 ERGONOMIC DESIGN
A portable generator that's difficult to move isn't all that portable. Cat portable generators designed with comfort and superior mobility in mind.
SAFETY FIRST
Your safety is our top priority. The RP12000 E is built with recessed sockets and water protected covers to keep outlets clean and dry. Ground fault circuit interrupters (GFCI) on the 5-20 duplex outlets shut off the power issues are detected to keep you safe. Custom heat shields protect you from burns and USDA approved spark arrestor guards against accidental fires.
The RP12000E is a powerful asset when the job or situation calls for significant extra power. It provides 12kW of lasting power that can handle even heavy-duty needs, and all in an easy-to-use, ergonomic design. Contractors and homeowners alike will find this model great for their power needs, be they at a work site with tools, at a home workspace with tools, or anywhere this type of power might be necessary. The all-copper design also provides clean, quality power, safe for all applications.
This generator is made with mobility in mind. It is designed with foldable handles and tires that never go flat. It's also safe: recessed sockets and protected covers keep the sockets safe from the weather. Ground fault circuit interrupters (GFCI) turn the power off if there are any problems. Heat shields protect the owner from burns and a spark arrestor prevents it from being a fire hazard. Overall, the CAT RP12000E is a portable powerhouse, build for even the toughest jobs at the site, or at home.
INCLUDES:
Wheel kit
Engine Oil
Battery
FEATURES:
12,000 watts running/ 15,000 watts starting

Fuel efficient 670cc v-twin OHV engine with idle mode option with pressurized oil system

11. 2 hours of runtime on one tank at 50% load

Low harmonic distortion generator (THD < 5%) with AVR

9 total outlets, including 20A, 30A and 50A Receptacles

Control panel on one side for easy operation

The manufacturer warranty is a 36-month limited warranty, activated by registering the product within 30 days of purchase.
120/240V, 50A outlet is Straight Blade, NEMA 14-50R
SPECS:
Plugs:
Engine:
Engine Brand - Caterpillar
Starting System - 12-Volt Button Start
Consumer Engine Warranty - 3 Years
Commercial Engine Warranty - 3 Years
Low Oil Alert/Shutdown - Yes
Overview:
Product Style - Portable Generator
Product Length - 35.7 Inches
Product Width - 32.7 Inches
Product Height - 35.8 Inches
Consumer Warranty - 3 Years
Commercial Warranty - 3 Years
Additional Model Numbers - 502-3699, RP12000E
Product Specs:
Voltage - 120/240 Single-Phase
Auto Voltage Regulation - Yes
Rated Watts - 12000 Watts
Surge Watts - 15000 Watts
Portability Kit - Never Flat Wheels
Run Time @ 50% Load - 11.7 Hours
Fuel Tank Material - Metal
Plugs:
NEMA 14-50R - 1
EPA - Certified
As a CAT authorized dealer, we offer a 2 year factory warranty on this item extended to 3 if you register your product within 30 days of purchase.
Pay over time
Clear, transparent terms. Fair rates. No prepayment penalties.
GET MY RATE
Financing Available
We provide easy and affordable financing through our partner, Bread, so you can pay for your purchase over time.
Affordable Monthly Plans
Pay for your order over 12, 18, or 24 months at competitive interest rates*.
No Prepayment Penalties
Pay for your purchase with monthly payments and prepay at any time without penalty.
Quick and Easy Application
Get a decision in seconds with no obligation to buy.
Check your rate in seconds without leaving our site
GET MY RATE