DuroMax XP4850EH 3500W/4850W Dual Fuel 7 HP Electric Start Generator New
Model:

Duromax

SKU:

XP4850EH
Manufacturer Direct Shipping
Free Shipping Options Available
No Sales Tax (except TX,WA,PA,NJ,MI,& NC)
Price Match On Most Items
Manufacturer Direct
Exceptional Customer Service
Free Replacement Shipping
To place an order over the phone or for immediate assistance, please call (888) 978-4993. For after hours sales please call (888) 999-1522.
| | |
| --- | --- |
| | Brand new & manufacturer direct |
| | Guaranteed to work like new or your money back |
| | 3 year manufacturer's warranty |
| | Authorized DuroMax dealer |
| | Ships out same or next business day |
OVERVIEW:
The DuroMax XP4850EH Generator has a Cast-Ironed Sleeved, 196cc Engine rated at 7 HP delivering a peak of 4,400 surge watts / 3,500 Constant. This is a sufficient amount of power that can handle an overhead Air Conditioner in a RV to basic house power. Designed for Safe and Easy Operation, the XP4850EH features a user-friendly, Electric Start, that's as simple as starting your car. It is also equipped with a recoil start in case of the battery being drained. Solid-Fill tires are also standard, they will never run flat, and high leverage handles that make it easy to transport over every terrain. The attached oversized noise reducing Muffler has a built-in Spark Arrestor for safe use in mandated camping areas and jobsites.
(2) 120V 20 Amp Standard Receptacles.
(1) 120v/240v 30 Amp Twist Lock Receptacles.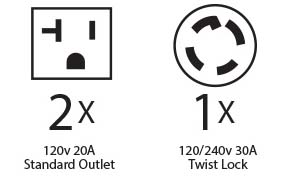 INCLUDES:
12V Battery
Wheel Kit
Generator Tool Kit
Owner's manual


FEATURES:
Powerful 7 HP Engine is able to accept high wattage loads with ease.
This Generator has endless uses; from Home Standby Power, Jobsites to a Weekend with the RV.
Equipped with Low Oil Protection, AC and DC Regulators, and a Spark Arrestor, Your unit will remain safe and in top operating condition.
This unit was designed to allow anyone to start and operate. This model comes with an easy Electric Start.
Simply turn the key and start the Generator.
Simply use the E-Z 1-Pull Recoil Cord to start the Generator.
Our Friendly Technicians know these units inside and out. Have a Technical Question? Give them a call and they will be glad to help you out.
Rest assured, your buying a quality unit at a low price from one of the largest Generator Sellers on eBay. We meet and exceed strict eBay standards while having the feedback that speaks volumes about these units.
Allows the user to get maximum power from each of the 120 Volt Receptacle. It also allows the user to choose between operating the Generator at both 120V and 240V simultaneously, or at 120 only with full power. It is recommended that the Voltage Selector switch always be in the 120V position unless 240V is required.
Durable DuroMax 7.0 Hp, air cooled with low oil shutoff.
Electric Key Start for easy starting when you need it.
Heavy duty steel frame comprised of 1-Inch steel tubing.
Generator sits on frame with four point isolated motor mounts for smooth operation.
Clean running propane will not gum up or damage the carburetor.
Unlike gasoline, liquid propane can be stored for years.
Flexible line allows for connecting to tanks of any size.
Designed to run on gasoline or propane for maximum convenience.
Wheel kit w/ front handle for easy transporting.
Full power panel with engine shutoff , volt meter, circuit breaker and power outlets.
Run Time Gasoline - Up to 10 Hours at 1/2-Load
Run Time Propane - Up to 10 Hours at 1/2-Load on 20 lb. Tank
Low oil shut-off protects engine.
Super quiet muffler reduces engine noise.
Idle control holds RPM at a constant level even under heavy loads for fuel savings and noise reduction.
Full EPA and CARB Compliance allows for operation in all 50 States
SPECIFICATIONS:
| | |
| --- | --- |
| Brand | DuroMax |
| Model | XP4850EH |
| Max AC Output (Watts) | 4850 |
| Rated AC Output (Watts) | 3850 |
| Fuel Tank Capacity (Gallons) | 4 |
| Engine | 7Hp DuroMax Air Cooled OHV Engine |
| Low Oil lamp/Shutoff | Yes |
| Start Type | Electric and Recoil |
| Spark Arrestor | Yes |
| Run Time on Gasoline | Up to 8 Hours at 1/2 Load |
| Run Time on Propane | Up to 9 hours at 1/2 Load on 20 lb. Tank |
| EPA Approved | EPA and CARB Compliance/50-State Status |
| CARB Approved | Yes |
| Current (Volts) | 120 |
| Amps | 30 / 15 |
| Decibels (db) | 69 |
| Horsepower (HP) | 7 |
| Torque (ft/lb) | 9.7 |
| Displacement (cc) | 210 |
| 120V 20 Amp Standard Receptacles | 2 |
| 120V/240V 30 Amp Twist Lock Receptacles | 1 |
| 10A 12V Utility Connection | 1 |
As a DuroMax authorized dealer, we offer a 3 year warranty on this item. DuroMax Power warrants to the original purchaser that the mechanical and electrical components will be free of defects in material and workmanship for a period of three years.  DOA units will be replaced at no charge. 
---