EnviroKlenz Mobile Air Purifier
Model:

EnviroKlenz

SKU:

EKMO
Free Shipping. No Sales Tax *Except TX*
No Hassle Returns
Price Match On Most Items
Manufacturer Direct
Exceptional Customer Service
Free Replacement Shipping
To place an order over the phone or for immediate assistance, please call (888) 978-4993. For after hours sales please call (888) 999-1522.
This is a store demo unit listed as like new - Same Great Quality, Much Lower Price!
| | |
| --- | --- |
| | 3 Year warranty included |
| | Guaranteed to work like new or your money back |
| | Includes all new filters |
| | Exclusive EnviroKlenz demo units dealer |
| | Free same or next day shipping |
The unit was used as a demo.  It has little use on it, and may contain some minor marks or scratches.
• An easily installed EnviroKlenz-Air Cartridge contains a proprietary blend of materials to neutralize odors, chemicals, gasses, Volatile Organic Compounds (VOCs), and larger particulates.Covers up to 750 sqare feet
• A multi-speed blower offers the quiet and efficient airflow. The low setting allows for near silent operation while still maintaining odor elimination. Medium to High speeds creates maximum air efficiency at noise levels still suitable for residential and commercial use.
• Affordable maintenance costs.
• No tools are required for unit maintenance.
EnviroKlenz Mobile Air System utilizes hospital-grade technology to provide maximum air cleaning efficiency for your home and office. EnviroKlenz-Air Mobile combines certified HEPA filtration along with our patented cartridge to remove airborne pollen, dust, odors, mold, gases, fragrance, VOCs, allergens, bacteria, and more.
Removal of hazardous pollutants from the air is an important application area with significant impact on human health and quality of life. Portable home air filters, personal protection respirators, and large scale filtration systems installed in buildings are examples of air filtration products widely used to improve air quality and prevent exposure to harmful chemicals. Air filters removing chemical pollutants, gasses, or vapors, are frequently used in the home where individuals are sensitive to chemicals or other environmental factors or pollutants may be present.
The majority of air systems only focus on particle filtration. These devices may use a combination of traditional MERV rated filters and HEPA filtration. In the image below, HEPA filtration does a good job of removing particulates, but it does not address chemical pollutants and odors.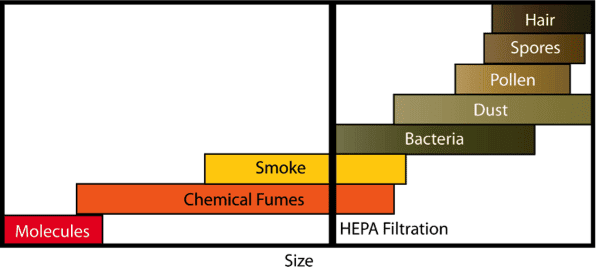 To combat this drawback, some devices add in solid sorbents, such as carbon, which try to capture air pollutants by means of physical adsorption. Such filters have only limited removal capacities and often no destructive capabilities resulting in the chemical contaminates being released back into the environment which is a major drawback of traditional sorbent-based filtration systems.
EnviroKlenz® Advantage
EnviroKlenz® products have proven to be highly efficient "destructive adsorbents" for chemicals making them not only competitively advantageous, but very attractive in multiple chemical sensitive situations. When the EnviroKlenz materials come into contact with harmful odor-causing chemicals, the metal oxides' active sites first capture the chemical then initiate the neutralization process. This type of action is needed for the numerous types of odorous chemicals that possess a variety of different functional groups. The increased surface area, unique physical morphology, high chemical reactivity, and functional porosity, all contribute to the enhanced chemical adsorption and odor neutralizing characteristics.
 EnviroKlenz materials are highly effective against many common chemical irritants, pollutants, and odors.
 EnviroKlenz technology can offer dramatically increased chemical neutralization capability and broader efficacy towards a variety of chemical classes.
 EnviroKlenz technology can be deployed into existing air handling systems or stand-alone mobile air systems.
 EnviroKlenz technology retains the adsorbed chemicals and/or fragrances.
 EnviroKlenz technology provides superior performance when compared to commercially available

counterparts.
As an EnviroKlenz authorized dealer, we sell this unit with a 3 year warranty to cover all non-cosmetic issues.  An extended warranty can be purchased above.
Perfect For Rooms Up To: 500 sq. ft.
| | |
| --- | --- |
| | Thousands of units sold with very happy customers and feedback |
| | Refurbished products come directly from the manufacturer, so you can be certain of the quality |
| | Refurbished products are restored by the manufacturer to the same rigorous standards as those set for new products |
| | We offer extended in-home warranties that can be longer than the manufacturer warranty for new items |
| | Each unit is individually tested for performance, whereas only a small subset of new units are tested |
This is the Best Unit For Chemical Odors No Questions Asked
I love this unit and own 3 right now and I am saving up to buy another one. This unit help me move into my home that had terrible new carpet smell and paint odors that were created by using toxic products from the previous landloard. I see that you have a better deal than most on you site and I will be back to place my order this month!!
---
More from this collection