Pulsar Products PG12000B 12000W/9500W Dual Fuel Electric Start Portable Generator New
Manufacturer: Pulsar
SKU: PG12000B
Out Of Stock
Manufacturer Direct Free Shipping
Free Shipping Options Available
Price Match On Most Items
Manufacturer Direct
Exceptional Customer Service
Free Replacement Shipping
To place an order over the phone or for immediate assistance, please call (888) 978-4993. For after hours sales please call (888) 999-1522.
| | |
| --- | --- |
| | Brand new & manufacturer direct |
| | Guaranteed to work like new or your money back |
| | 2 year limited manufacturer's warranty |
| | Authorized Pulsar Products dealer |
Description:
Pulsars PG12000B Dual Fuel Portable Generator was built to keep you out of the dark during the next power outage. The dual fuel feature with the ability to run on gasoline or liquid propane to provide you with more options and peace of mind in the event of a natural disaster. Its 457 cc, single cylinder, 4-stroke, OHV engine produces 12,000 Peak Watts/9,500 Running Watts on Gasoline and 10,800 Peak Watts/8,550 Running Watts on LPG. The extended run-time and output make it an ideal source of backup power for running large appliances and other electronic devices, so you can comfortably weather the storm. The PG12000Bs convenient Switch and Go technology allows you to seamlessly transition between fuel sources while in use without you missing a beat. Its durable steel frame, 10 never-flat wheels, and convenient drop-down handles make storage and maneuvering easier than ever. When you need the convenience of portability and the power to perform, the Pulsar PG12000B has you covered.
Features:
12,000-Watt peak/9,500-Watt rated (gasoline)
10,800-Watt peak/8,550-Watt rated (LPG)
Electric push start with recoil back-up
Four 120-Volt outlets, one 120-Volt/240-Volt twist-lock outlet, one 120-Volt/240-Volt 50 Amp RV outlet, and one 12-Volt DC output
Drop-down handles and 10 never-flat wheels
Switch and go fuel selector switch 20 lbs. and 30 lbs. LPG connector
Top fuel gauge
High gloss tubular steel frame
457 cc OHV Ducar engine 6.6 Gal. fuel tank 13-hours run time on half load
3-in-1 digital meter
INCLUDES:
Generator
Accessories
Warranty Card
Owner's manual
Dimensions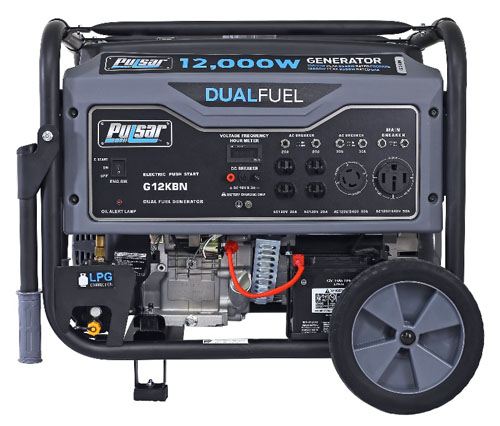 Pulsar 12,000W Dual Fuel Portable Generator in Space Gray with Electric Start
The G12KBN produces an impressive 12,000W(GAS)/10,800W(LPG) and is capable of powering major appliances in the event of a power outage. Dual fuel capability gives you the option to choose between running your generator on gasoline or liquid propane fuel sources, which is great in the event of an emergency when propane (LPG) may be more readily available. The durable frame with convenient drop-down handles and 10" never-flat wheels make this generator both portable and easy to store. Featuring (4) 120V 20A AC Outlets, (1) 120V/240V 30A Twist-Lock Outlet, (1) 120V/240V 50A Outlet, and (1) 12V DC Output, so you can rest assured that the G12KBN has got you covered.

12,000(GAS)/10,800(LPG) Max. Watts
9,500(GAS)/8,550(LPG) Running Watts
457cc, Single Cylinder, 4-Stroke, OHV, Air Cooled Engine
Dual Fuel Capability (GAS & LPG)
Electric & Recoil Start
(4) 120V 20A AC Outlets, (1) 120V/240V 30A Twist-Lock Outlet, (1) 120V/240V 50A Outlet, (1) 12V DC Output
12 Hours of Operation @ ½ Load (GAS)
8 Gallon Fuel Tank
10" Never-Flat Wheels & Drop-Down Handles
3 in 1 Digital Volt Meter
Low Oil Sensor
Includes: Propane Hose, Spark Plug T Wrench, 10mm Combination Wrench & Phillips Screw Driver
Products Features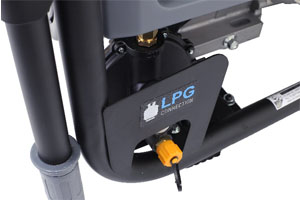 Dual Fuel Capability
The G12KBN gives you the ability to choose between fuel sources, with the option to run your generator on either Liquid Propane or Gasoline, great in the event of an emergency or natural disaster.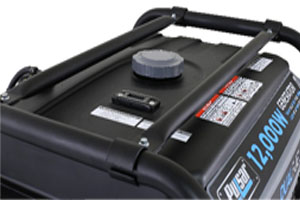 Long Run-Time
Capable of up to 12 hours of operation at ½ load on just 8 gallons of gasoline!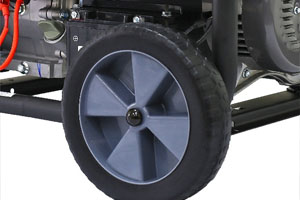 Portability
10" Never-flat wheels and drop-down handles provide easy maneuvering and storage capability.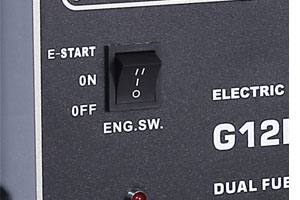 Electric Push Start
The convenient electric push start makes turning on your generator quick and easy!
Details
Application - Home Standby,Job Site,Recreation
Compliance - CA (CARB) Compliant
Color Family - Black/Blue
Engine Displacement (cc) - 420
Engine Make - OEM Branded
Features - Automatic Voltage Regulation,Dual Fuel,Electric Start,Fuel Gauge,GFCI Outlet(s),Hour Meter,Low Oil Shutdown,Overload Protection
Fuel Tank Capacity (gallons) - 6.6
Full load fuel consumption (gallons/hour) - 8
Horsepower (hp) - 15
Included - Rear Wheels,Wheel Kit
Number of circuits/outlets - 7
Operational Volume (dB) - 74
Outlet Type - 120V 20A,120V 30A,240V 20A,240V 30A
Power Type - Gasoline,Propane Liquid
Product Weight (lb.) - 195lb
Run time at 50% load (hours/tank or charge) - 13
Running Wattage - 6250
Start Type - Electric Switch,Recoil Start
Starting Wattage - 7750
Suggested Uses - Battery Charger,Bench Tools,Halogen Work Light,Large Appliances,Lights,Mobile Devices,Power Tools,RV A/C Unit,Small Appliances,Small Electronics,Sump Pump,Well Pump
As a Pulsar Products authorized dealer, we offer a 2 year parts warranty on this item. 
Pay over time
Clear, transparent terms. Fair rates. No prepayment penalties.
GET MY RATE
Financing Available
We provide easy and affordable financing through our partner, Bread, so you can pay for your purchase over time.
Affordable Monthly Plans
Pay for your order over 12, 18, or 24 months at competitive interest rates*.
No Prepayment Penalties
Pay for your purchase with monthly payments and prepay at any time without penalty.
Quick and Easy Application
Get a decision in seconds with no obligation to buy.
Check your rate in seconds without leaving our site
GET MY RATE