Tzora Titan 3 Wheel Heavy Duty Folding Mobility Scooter Gray New
Manufacturer: Tzora
SKU: TITAN3GRAY
Select Bread as your payment option at checkout
In Stock
Manufacturer Direct Free Shipping
Free Shipping Options Available
Price Match On Most Items
Manufacturer Direct
Exceptional Customer Service
Free Replacement Shipping
To place an order over the phone or for immediate assistance, please call (888) 978-4993. For after hours sales please call (888) 999-1522.
1 year limited factory warranty 

6 month warranty on battery

Brand new in box 

SLA battery included

Ships directly from the manufacturer

Authorized Tzora dealer

Free shipping
---
The Titan 3 Wheel Scooter from the Tzora brand brings folding capability and luxury to a mid-size disability scooter.
Convenient: With a 19 mile cruise range and sporty design, it will take you anywhere you want to go - indoors and out. With its two-piece, compact, lightweight design it is portable and a great motorized personal scooter to travel with. A variety of features and accessories make it an exceptional buy for the disabled, the handicapped, and the elderly.
Smooth Ride: This is a high performance mobility scooter for adults that features adjustable rear spring suspension and 12" pneumatic tires, delivering a super smooth ride in any weather. It can be used on steep hills and ramps and is capable of handling an 8° (14%) grade inclines.
Safe: For safety purposes, this electric handicap scooter is designed with a four post seat. This prevents the instability that comes along with many scooters due to the center post type seat. The 22" four post seat improves safety with over a 45% increase in the scooter's stability, and the seat itself is made of comfortable memory foam. An automatic braking system provides reliable stopping power, and rear anti-tip wheels increase the stability of your ride. The scooter's turning radius of 39" gives it the maneuverability you will need.
Full Lighting: Like the Hummer XL mobile scooter, this scooter features a complete light system. This includes a right and left turn signal, rear taillights, a halogen head light, front running lights and even reverse tail lights. With such an extensive lighting package, piloting your scooter at night or in adverse weather conditions is a much safer prospect.
Additional Features: The Tzora Titan three wheel scooter has a weight capacity of 300 lbs., making it a great choice for a variety of users. Its two piece design makes transporting or storing the scooter a simple prospect, with the front frame weighing 49 lbs. and the rare frame weighing 51 lbs. A number of other great features, including a large rear basket (holds as much as 3 full grocery bags), an adjustable & foldable ergonomic delta tiller, flip up armrests and a status indicator LED make this one of the best scooters available for sale.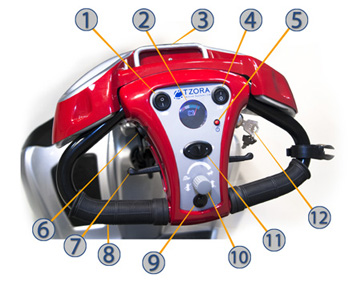 | | |
| --- | --- |
| 1 | Turtle / Rabbit Quick Flip Speed Switch |
| 2 | Battery Gage Indicator |
| 3 | Adjustable Tiller Lever. (Virtual Adjustment) |
| 4 | Halogen Head Light |
| 5 | Status Indicator LED |
| 6 | Hazard Lights |
| 7 | Throttle |
| 8 | Durable Rubber & Neoprene Hand Grips |
| 9 | High Frequency Horn |
| 10 | Full Range Speed Adjustment Dial |
| 11 | Full Light Package Controls |
| 12 | Keyed Ignition |
What's Included
Tzora Electric Folding Mobility Scooter
SLA Battery
keys
Remote
Charger
Manual
Features:
Compact
Highly maneuverable
Smaller turn radius than the Hummer XL 4 wheel
Keyed ignition
High weight capacity of 300lbs
Comfortable seat with arm rests
Ergonomic location of battery pack.


Specifications
:
As as authorized Tzora dealer, this item comes with a 1 year factory warranty, and 6 month warranty on battery.
Pay over time
Clear, transparent terms. Fair rates. No prepayment penalties.
GET MY RATE
Financing Available
We provide easy and affordable financing through our partner, Bread, so you can pay for your purchase over time.
Affordable Monthly Plans
Pay for your order over 12, 18, or 24 months at competitive interest rates*.
No Prepayment Penalties
Pay for your purchase with monthly payments and prepay at any time without penalty.
Quick and Easy Application
Get a decision in seconds with no obligation to buy.
Check your rate in seconds without leaving our site
GET MY RATE