Manufacturer Direct Shipping
Free Shipping Options Available
Price Match On Most Items
Manufacturer Direct
Exceptional Customer Service
Free Replacement Shipping
To place an order over the phone or for immediate assistance, please call (888) 978-4993. For after hours sales please call (888) 999-1522.
| | |
| --- | --- |
| | Brand new & manufacturer direct |
| | Guaranteed to work like new or your money back |
| | 3 year manufacturer's warranty |
| | Authorized DuroMax dealer |
| | Ships out same or next business day |
The DuroMax XP4000S 4,000 Watt Generator is designed by the professional, for the professional. It features a Fully Loaded Power Panel that is the main control center for the Generator. The Power Panel also has the Engine Shutoff switch, Volt Meter, and Circuit Breakers. These units are EPA approved for safe use in U.S. National Parks and mandated Jobsites. The Powerful 7 HP DuroMax Engine is Air Cooled and can withstand use and abuse. This Generator has everything a Great Generator needs, but at a price that everybody wants. 
(2) 120V 20 Amp Standard Receptacles.
(1) 120v/240v 30 Amp Twist Lock Receptacles.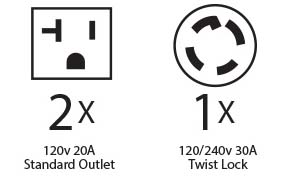 INCLUDES:
Generator Tool Kit
Owner's manual


FEATURES:
Powerful 7 HP Engine is able to accept high wattage loads with ease.
This Generator has endless uses; from Home Standby Power, Jobsites to a Weekend with the RV.
Equipped with Low Oil Protection, AC and DC Regulators, and a Spark Arrestor, Your unit will remain safe and in top operating condition. Ease Of Use: This unit was designed to allow anyone to start and operate.
Simply use the E-Z 1-Pull Recoil Cord to start the Generator.
Our Friendly Technicians know these units inside and out. Have a Technical Question? Give them a call and they will be glad to help you out.
Heavy duty frame with four point fully isolated motor mounts for smooth quiet operation.
Full power panel with oil warning light, volt meter, circuit breaker and power outlets.
Run-Time [ @ 50% Maximum Output ]: 8.0 hrs.
Low oil shut-off protects engine.
Quiet Muffler reduces engine noise.
Full EPA and CARB Compliance allows for operation in all 50 States
| | |
| --- | --- |
| Sku | XP4000S |
| Brand | DuroMax |
| Max AC Output | 4,000 Watts |
| Rated AC Output | 3,300 Watts |
| Engine Displacement | 208cc |
| Current | 120v |
| Max. Torque | 9.7 ft-lbs. |
| Run Time at 1/2 Load | 8 Hours |
| Fuel Tank Capacity | 4 Gallons |
| Start Type | Recoil |
| Decibels | 69 dB(A) |
| Shipping Weight | 129 lbs. |
As a DuroMax authorized dealer, we offer a 3 year warranty on this item. DuroMax Power warrants to the original purchaser that the mechanical and electrical components will be free of defects in material and workmanship for a period of three years.  DOA units will be replaced at no charge. 
---